2.3T Ford Engine Parts & Tools
NEW PARTS FOR YOUR 2.3 TURBO FORD
*
NEW lightweight mini starter for the 2.3T - $59.95
NEW Engine Trouble Code Scanner Reader - $39.95
Works on all Merkurs XR4Ti and Scorpio as well as all factory equipped 2.3 Turbo Fords. Displays trouble codes in easy to read numbers - no more counting blinking lights! Book with all code descriptions included.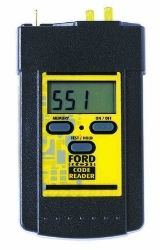 ( Late ) 2.3 Turbo Oil Pan Gasket; 1 pc Rubber - $39.95
Easy way to tell if you have a late pan gasket? ALL the pan bolts will be identical, whereas the early engines will have 4 larger bolts on the pan at the front and rear.