2.3T Ford Engine Parts & Tools
NEW PARTS FOR YOUR 2.3 TURBO FORD
*
NEW lightweight mini starter for the 2.3T - $59.95
NEW Engine Trouble Code Scanner Reader - $39.95
Works on all Merkurs XR4Ti and Scorpio as well as all factory equipped 2.3 Turbo Fords. Displays trouble codes in easy to read numbers - no more counting blinking lights! Book with all code descriptions included.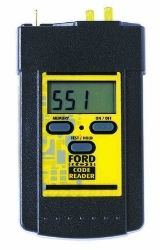 Turbo to Throttlebody Hose $29.95
4 ply silicone hose for the turbo to throttlebody connection on 1985-1989 Merkur XR4Ti, 1983-1986 Thurnderbird Turbo Coupe, Mustang GT Turbo
At this age its very common the factory hoses crack between the ribs - replace it with modern hi temp silicone part that looks great and will deliver a long service life.