XR4Ti REAR DISC BRAKE UPGRADE
XR4Ti REAR DISC BRAKE UPGRADE KITS
Rear Disc Brake Kit with standard rotors - $329.00
Rear Disc Brake Kit with cross drilled rotors - $349.00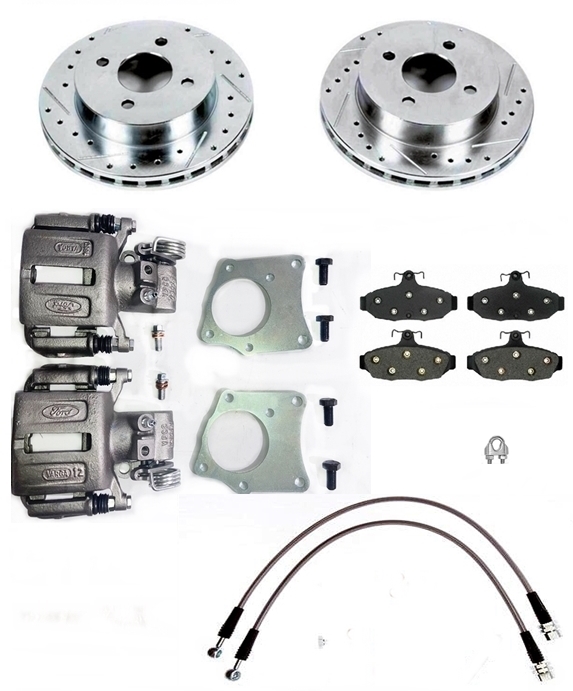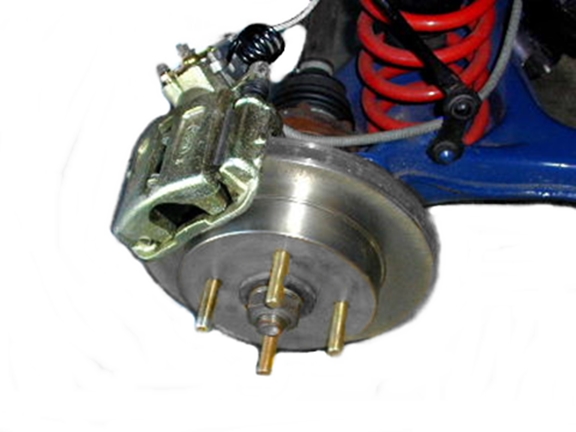 Installation:
This is a bolt on installation and the parts install just as easily as the standard XR brakes. Loosen the wheel flange retaining nut before jacking the car up. Note that the driver's side retaining nut comes off turning clockwise. Then remove the wheel, brake drum, and wheel flange and disconnect the brake line. Remove the 4 bolts that hold the bearing hub to the trailing arm and then remove the hub and backing plate. Squeeze the 3 prongs on the parking brake cable where it protrudes through the backing plate and remove the cable. Install the conversion brackets with the caliper mounting holes at the 11 o-clock position on the passenger's side and the 1 o-clock position on the driver's side. Re-install the bearing hub using the stock bolts. Place the wheel flange on the splines and sung down the retaining bolt. At this time you can install the rotor and caliper.
*Note that the RH caliper is used on the LH side of your XR4Ti, and the LH caliper is used on the RH side. When installed the parking brake lever should be facing slightly up and forward. The calipers bolt to the brackets with the 25mm bolts supplied with the kit.
The Merkur XR4Ti brake cable can be easily modified to work with the rear disc calipers without using additional brackets. The stock cable is simply 'too long' when installed with these calipers and you can cut out a section of the cable to shorten it. Attach the parking brake cable in one caliper and pull the slack at the other side. Cut the extra couple inches out of the cable and reattach the split cable together with the wire clamp supplied with the kit.
If you want a more elegant solution than splicing the cable, check out the Parking Brake Cable Adapters available from MPM: http://merkurmidwest.com/catalog/i850.htm
It is generally recommended to remove the ball bearing from the brake bias proportioning valve when swapping over to (any) large rear disc brakes on the XR4Ti.