XR4Ti REAR BRAKE UPGRADE
XR4Ti REAR BRAKE UPGRADE
Cosworth Rear Disc Brake Kit for the XR4Ti.
This kit utilizes our custom made brackets to adapt the Sierra RS Cosworth rear disc brakes to the XR4Ti without having to swap the rear suspension arms, bearing carriers, axle stub shafts, etc.
(You can also use the Sierra Cosworth brake cable and our braided SS lines when converting an XR4Ti to Scorpio 5 lugs and rear disc brake.)
A small known fact is that the Sierra RS Cosworth rear calipers are identical to the US market Scorpio rear calipers, so you can source your calipers from us, from another vendor, from the local parts store, or even the junkyard! *Please keep in mind that some rebuilt calipers may not come with the factory slider bracket - you do need the factory slider bracket when installing these calipers on the XR4Ti.
The Sierra RS Cosworth parking brake cable makes this swap a clean bolt-in ordeal - just use the factory Ford part designed to work with this chassis and this caliper.
This rear disc brake kit is 25% lighter than using the Turbo Coupe rear disc brakes on the XR4Ti!
Rear disc kit clears ALL Factory Merkur wheels; Spatulas and Basket Weave, they even clear factory 14" Phone Dial wheels. (Scroll to the bottom of the page to see clearance with stock 14" factory wheel.)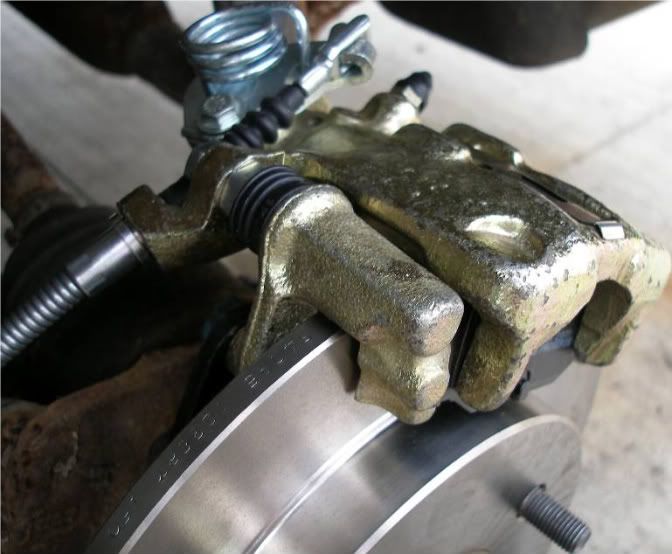 Shipping automatically calculated for US residents. For shipping inquiries outside th US please contact us for a shipping quote prior to ordering.
Sierra Cosworth Rear Disc Parking Brake Cable - $79.95
*
Rear Disc Brake Conversion Brackets - $59.95
*
*
Plated / Drilled / Slotted Rear Rotors (pair) - $89.95
*
Standard Rear Rotors (pair) - $79.95
*